National School Sport Week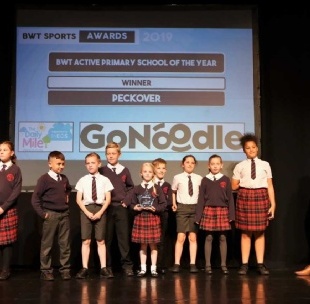 The achievements of students from our Trust schools were celebrated at our annual sports Awards.
This week, Peckover Primary School has celebrated National School Sport Week (NSSW) in a variety of ways! The theme of NSSW this year is '5 ways to wellbeing'. The 5 ways are: be active, connect, give back, take notice and learn.
To celebrate, Peckover has taken part in a whole school daily mile! Children have had different PE lessons, and Year 4 even got to have a game of quidditch!
Also, The Brooke Weston Trust held the Sports Awards on Tuesday 25th June in the evening at Corby Cube. What a fantastic night that was! Lots of awards were given out and children that were nominated for awards from Peckover attended the evening.
Evie Suckling won an award for Young Performer of the Year for her fantastic achievements in gymnastics. Camilla Gwexela won an award for her Outstanding Contribution to Leadership as she has been an amazing leader in the tag rugby lunch club. Peckover's football team were nominated for 'Team of the Year', and although they didn't win this year, we're really proud of what they and Miss Clarke have achieved. Finally, Peckover were the winners of 'Most Active Primary School' across the trust, and this is something we are so proud of.
It has been a busy week for the NSSW, and we are very proud of all that has been achieved.