Music
Music Curriculum Intent – Peckover Primary School
"Music gives a soul to the universe, wings to the mind, flight to the imagination and life to everything. Education in Music is most sovereign because more than anything else rhythm and harmony find their way to the innermost soul and take strongest hold upon it"- Plato. Music education enhances and develops confidence, communication skills, instils the discipline to persevere, and embeds performance skills that are transferrable to all areas of life.
Research and literature shows that exposure to and extensive musical education can provide children with numerous benefits inlcuding: improved mental health and relaxation, improved levels of concentration and focus, increased levels of confidence and self-esteem and improved memory.
At Peckover, we pride ourselves on having a broad and balanced curriculum which caters to the wide and varying needs of the children we teach. Music and the creative arts play an integral role in this. Creating music from an early age allows children to explore the world around them from a new perspective. We place a particular emphasis on children experimenting practically with instruments and their ability to create their own music.
We provide numerous opportunities for children to build their confidence and expertise by giving them the chance to rehearse and perform in front of other pupils, relatives and members of the public. Recent performances have included the following:
Wisbech's annual Rose Fair (where a selection of choirs and ensembles from across the school perform in local churches and open-air venues). We have taken upwards of 45 children to this festival of local culture and creativity for the past 11 years.
Edina Court Care Home. Both our choirs, our guitar ensemble and our brass band have put on Christmas performances for the residents of Edina Court over the past three years as well as a more recent series of five World War Two sing-a-long days.
Peckover Annual Performing Arts Evening – this highly popular event is now in its 7th year and provides opportunities for performances on a variety of musical instruments as well as our ever-popular choirs, dance and musical theatre clubs.
Performing at the Harvest Festival Concert at St Augustine's Church.
Christmas Concert – St. Peter's Church, Wisbech.
Year Six children perform a musical annually as part of their leaving ceremony.
Christmas pantomimes and musical shows take place in EYFS, Y1/Y2, Y3/4 and Y5/6 each year.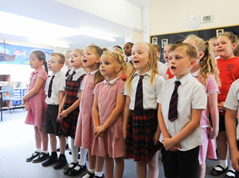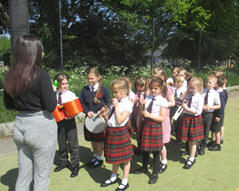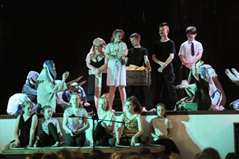 Children at Peckover are taught Music from Nursery age through to Year Six through lessons with their own class teachers and by specialist peripetetic music teachers. Wherever possible, musical education is linked to a theme or classroom topic (for example, Year Five children learning about World War Two will become very familiar with musical styles of the era and with famous artists of the time such as Dame Vera Lynn). This is supplemented by lessons in from Year 2 upwards, where children are taught to play keyboard and ukulele in addition to building up their knowledge of musical theory and staff notation. Wherever possible, children are exposed to live and recorded music.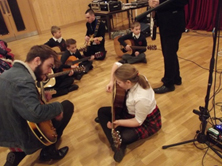 In addition to this, children have access to private lessons (individual and small group), where they can choose to learn: recorder, piano, guitar, cornet and trumpet.
The learning of music at Peckover is developed and progresses over time through imbedding it within our schools curriculum. Each Year group at Peckover incorporates the teaching of music skills within their topics. Some examples of how this typically takes place in different year groups are listed below.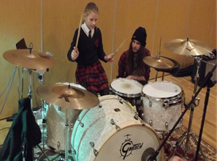 Year Group

Examples

Nursery

Exploring sound through play. Learning sounds and shapes through songs and nursery rhymes.

Music based activities are provided within Nursery continuous provision.

Reception

In EYFS children begin to explore and build confidence with selecting and combining sounds through play. Learning songs and rhymes to helps young children to commit topic based knowledge to long term memory and this is implemented consistently in our EYFS classes.

Throughout the Reception Year children are developing gross motor skills and physical development by learning the difference between high and low notes and using the body to demonstrate this knowledge (stretching up high or reaching down low).

Music based activities are provided within EYFS continuous provision.

Year 1

As part of the "Fairytales" topic, children in Year 1 are exposed to classical music in their "Cinderella" ball. Children are encouraged to use songs and music to create memory based connections to learning, such as phonics and other elements of their learning throughout the year.

In Year 1 children make and play their own instruments to experiment with and create sounds.

Year 2

Becoming familiar with classical music and storytelling (e.g. Peter and The Wolf).

As part of their Victorians topic, children in year two make their own musical instruments and use them to explore sound and rhythm in their own marching band.

As part of their "Around The World" theme, Year 2 children are exposed to live and recorded music from around the world.

Year 3

In the Autumn term Year 3 children investigate the effect of music on mood and atmosphere in their "Treasure Island" topic. They create their own music to replicate the feeling of being out at sea in stormy weather, with an aim to replicate the atmosphere of traditional compositions such as Treacherous Waters by Antti Martikainen.

As part of their "On Safari" topic, children in Year 3 have the opportunity to try African drumming and create their own compositions with a focus on rhythm and tempo.

As part of their "Chocolate" topic, Year 3 children create their own television advertisement which involves writing and performing their own theme music to advertise their own chocolate product.

Year 4

As part of their Harry Potter topic, children learn and perform a variety of songs and chants from the film series including "Double Double Toil And Trouble".

As part of their Amazon topic, Year Four Children become familiar with tribal music and war dances, drumming etc.

Throughout the school year, Year 4 children are taught and sing as a cohort a range of songs that inspire and promote unity and the Peckover School values of PROUD. The purpose of this is inspiring enjoyment for music and performing in the simplest form.

Year 5

As part of their WW2 topic, children learn and perform a number of famous pieces from the era including: Wish Me Luck As You Wave me Goodbye, There'll Be Bluebirds Over The White Cliffs Of Dover and Keep The Homefires Burning and The Last Post.

As their finale, children host a VE-Day party/tea dance in the hall, where they celebrate the end of the topic and learn a selection of dances such as the waltz and the jive.

As part of their Bear Grylls: The Island topic, children in year five learn about the cultural significance of the hakka and perform it in a group.

Year 6

As part of their Titanic topic, Year Six children take part in an afternoon tea celebration which consists of singing the traditional hymn Eternal Father, Strong to Save byJohn Bacchus Dykes. The Year 6 children are also taught and learn to dance to a range of styles of music such as the jig and the waltz as part of the celebration.

Year 6 children also perform a musical as part of their leavers celebration where they sing, dance and act in role- every child has their part to play in the spectacular that is the Peckovers leavers performance.
Musical Ensembles & Groups at Peckover:
Tuesday choir (EYFS to Y6) – Weekly after school rehearsals.
Nightingales (Y1-Y6) – A weekly choir aimed predominantly at PP children. Weekly rehearsals at lunchtime on Thursdays. This gives children who aren't able to attend outside school hours the same opportunity to sing as others.
Peckover Puffings – Our school's brass band – Weekly rehearsals on Fridays after school.
KS1 Dance Club – Summer Term
KS2 Dance Club – Summer Term
KS1 Musical Theatre Club – Summer Term
KS2 Musical Theatre Club – Summer Term
Guitar Ensemble – Open to all year groups.
Recorder group – Open to all year groups.
KS1 Singing assembly – Weekly on Wednesdays
KS2 Singing Assembly – Weekly on Wednesdays.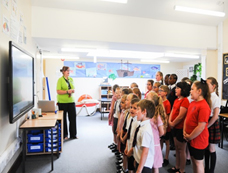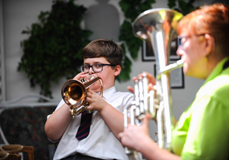 Foci for Music teaching at Peckover:
Intertwining musical learning and learning in other subject areas within the range of topics taught across the school.
Listening to a wide variety of live and recorded music.
Learning to perform to perform musical acts to a range of audiences.
Exposing children to music from different cultures, traditions and time-periods, emphasizing the purpose and impact of music in these different time-periods.
Learning staff and other forms of musical notation.