P.E
PE curriculum intent:
Sport has the power to change the world. It has the power to inspire. It has the power to unite people in a way that little else does. It speaks to youth in a language they understand. Sport can create hope where once there was only despair.
Nelson Mandela
We all need to lead an active and healthy lifestyle. Exercise is fundamental, as it allows children to function and complete everyday tasks, as well as improving their quality of life and life expectancy. Not only does being active reduce obesity and health risks later in life, it improves mental health through the release of endorphins and promotes social inclusion. The aim is to develop a lifelong interest in sport, either by committing to regular participation, showing a passion for sport or topic or showing effective teamwork to succeed in a game.
Through our PE curriculum, we cover a range of areas and sports. The areas of focus are:
Send and return
Attack, defend and shoot
Hit, catch and run
Run, jump and throw
Gymnastics and dance
Swimming
OAA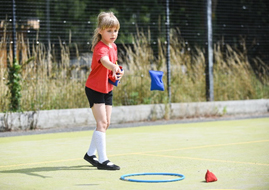 The skills in each area are covered through a range of sports, including football, netball, dodgeball, hockey, tag rugby, tennis, javelin, discus, table tennis, rounders, cricket and athletics.
As well as teaching the children a range of sport skills, we also encourage leading an active lifestyle. We do this by taking part in the daily mile and also using the tool GoNoodle as a way to encourage being active.
Implementation
PE lessons are taught each week to build on progression of skills. Children will learn the skills, the basic rules of a game, and then the skills will be put into a game situation. Assessments are on-going throughout the year in the form of observations and analysis of performance.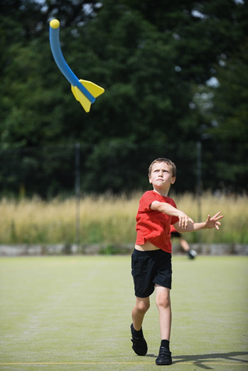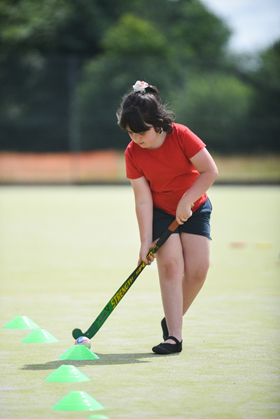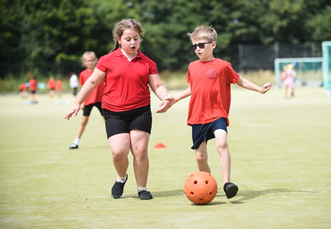 PE

EYFS

Autumn term

Spring term

Summer term

Dance and movement

Physical literacy

Physical literacy

Physical literacy

Games activities

Sports day activities

Use colour and associated feelings for movement

Animal stimulus using movement and direction

Dance in unison – hockey cokey

Jump on and off low apparatus

Balance beanbag in many different ways on the body

Balance beanbag on different body parts

Move through hoops using a variety of movements

Reach and stretch to retrieve and place objects

Experiment with twisting and turning and beginning to roll

Follow the leader using different movements

Follow jumping patterns

Jump for height onto apparatus

Travel along equipment

Take part in a variety of parachute games

Practise and perform a variety of skips with and without a rope

Roll, spin, rotate, throw and catch hoops

Respond to cues to change between hopping, jumping, stepping

Basic sending and receiving skills

Throwing and catching

Experience using different sports equipment

Running race

Skipping race

Egg and spoon race

Sack race

Teddy bear race

Relay race

Dress up race

YEAR 1

Autumn term

Spring term

Summer term

Dance and movement

Physical literacy

Physical literacy

Physical literacy

Games activities

Sports day activities

Use colour and associated feelings for movement

Animal stimulus using movement and direction

Dance in unison – hockey cokey

Jump on and off low apparatus

Balance beanbag in many different ways on the body

Balance beanbag on different body parts

Move through hoops using a variety of movements

Reach and stretch to retrieve and place objects

Experiment with twisting and turning and beginning to roll

Follow the leader using different movements

Follow jumping patterns

Jump for height onto apparatus

Travel along equipment

Take part in a variety of parachute games

Practise and perform a variety of skips with and without a rope

Roll, spin, rotate, throw and catch hoops

Respond to cues to change between hopping, jumping, stepping

Basic sending and receiving skills

Throwing and catching

Experience using different sports equipment

Running race

Skipping race

Egg and spoon race

Sack race

Teddy bear race

Relay race

Dress up race

YEAR 2

Autumn term

Spring term

Summer term

Attack and defend

Attack and defend

Send and return

Hit, catch, run

Gymnastics/Dance

Sports day activities

Send the ball with feet by kicking

Receive and stop the ball with feet

Pass the ball with feet

Dribble the ball round cones

Aim for a target and shoot

Pass the ball whilst moving

Send and receive the ball moving into space

Role of attackers/defenders

Role of goalkeeper

Tackling

Match play

Match play

Use correct grip on a tennis racket

Ball control with a tennis racket

Hitting ball to self

Hitting ball to someone else with a bounce in between

Experiment hitting tennis ball with different bats

Underarm throwing

Overarm throwing (fielding)

How to catch/stop the ball

Play as part of a team

Match play

Match play

TCA – Kirstie to teach. Teachers to attend for CPD.

Running race

Sack race

Egg and spoon race

Bean bag race

Relay race

YEAR 3

Autumn term

Spring term

Summer term

Attack and defend

Attack and defend

Send and return

Hit, catch, run

Gymnastics/Dance

Sports day activities

Send the ball with feet by kicking

Receive and stop the ball with feet

Pass the ball with feet

Dribble the ball round cones

Aim for a target and shoot

Pass the ball whilst moving

Send and receive the ball moving into space

Role of attackers/defenders

Role of goalkeeper

Tackling

Match play

Match play

Use correct grip on a tennis racket

Ball control with a tennis racket

Hitting ball to self

Hitting ball to someone else with a bounce in between

Experiment hitting tennis ball with different bats

Underarm throwing

Overarm throwing (fielding)

How to catch/stop the ball

Play as part of a team

Match play

Match play

TCA – Kirstie to teach. Teachers to attend for CPD.

Running race

Sack race

Egg and spoon race

Bean bag race

Relay race

YEAR 4

Autumn term

Spring term

Summer term

OAA

Netball

Swimming

Dodgeball

Swimming

Tennis

Athletics

Gymnastics/Dance

Team work

Problem solving

Making up problems for others to solve

Challenges in different environments

Basic rules of the game

Positions and role of each player

Passes – chest, bounce, shoulder

Shooting technique

Marking (attack/defend)

Match play

Match play

Basic rules of the game

Throwing to a target

Catching

Tactics of the game

Match play

Match play

Basic rules of the game

Ball control (volley on own)

Hitting the ball to a partner

Overarm serve

Forehand/back hand

Match play

Match play

Running

Jumping – long jump, triple jump

Throwing – javelin

Sports day activities

TCA – Kirstie to teach. Teachers to attend for CPD.

YEAR 5

Autumn term

Spring term

Summer term

OAA

Netball

Swimming

Dodgeball

Swimming

Tennis

Athletics

Gymnastics/Dance

Team work

Problem solving

Making up problems for others to solve

Challenges in different environments

Basic rules of the game

Positions and role of each player

Passes – chest, bounce, shoulder

Shooting technique

Marking (attack/defend)

Match play

Match play

Basic rules of the game

Throwing to a target

Catching

Tactics of the game

Match play

Match play

Basic rules of the game

Ball control (volley on own)

Hitting the ball to a partner

Overarm serve

Forehand/back hand

Match play

Match play

Running

Jumping – long jump, triple jump

Throwing – javelin

Sports day activities

TCA – Kirstie to teach. Teachers to attend for CPD.

YEAR 6

Autumn term

Spring term

Summer term

Gymnastics/ Dance

Netball

Dodgeball

Tag rugby

Swimming

Rounders

Swimming

Tennis

TCA – Kirstie to teach. Teachers to attend for CPD.

Rules of the game

Positions and role of each player

Passes – chest, bounce, shoulder

Shooting technique

Marking on the side (attack/defend)

Match play

Match play

Rules of the game

Throwing to a target

Catching

Tactics of the game

Match play

Match play

Rules of the game

Passing technique

Tackling

Tactics

Match play

Match play

Rules of the game

Throwing and catching

Hitting the ball

Roles of the players

Match play

Match play

Rules of the game

Ball control (volley on own)

Hitting the ball to a partner

Overarm serve

Forehand/back hand

Match play

Match play